The weather was beautiful on Sep 28th (it was almost too hot). I went for a ride around Lake Winnipesaukee and I decided to come home on a road that I have never been on (Winona Rd). I missed the stop sign warning sign. It has a stop sign in the middle of a turn with no intersecting road. It is for a narrow single lane underpass that goes under an old railroad track. I just happened to be playing with my Go Pro, experimenting on where to mount it. The sound is messed up because my helmet strap and headphone wires are flapping in the wind.
Here are some pictures of my KLR after adding the various updates I got for it. I replaced the front fender with an OEM one. I purchased a 2011 KLR header pipe (stainless steel) on eBay. Replaced the giant rusty stock muffler with a DG slip on. I found a deal on a 2008 KLR luggage rack on eBay which is a bolt on except for the directionals. I added a set of Dirt Rack crash bars and the only other external mod are some brush guards I got on eBay.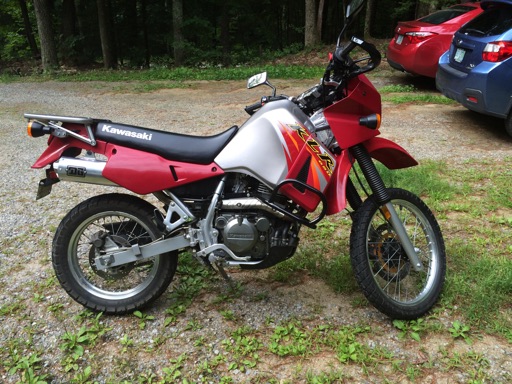 Here is what the exhaust sounds like. There is a slight ringing/chirpy sound and that is the 1″ tip rattling around a little. The video was before I took it apart and added RTV to the end and insert to seal it all up.
Today I finally got to bring home my KLR 650. It was kind of chilly, so I didn't get to ride it much. I did take a couple of dirt roads just to check it out. Way down on power compared to my VStrom, but I knew that would be the case. It seems lighter than I thought it would be and I was pretty impressed with the suspension that is on it. I thought I still might have to tweak it, but for now it seems like it will be just fine.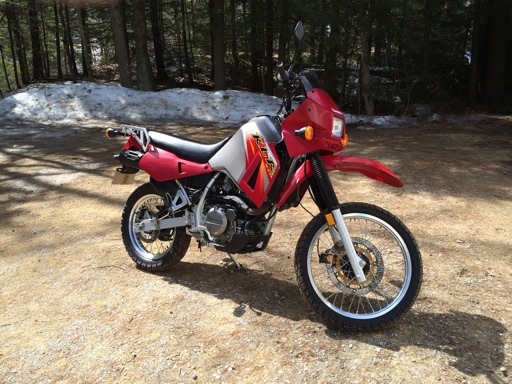 It has been my desire to ride portions of the Trans America Trail. I would love to ride it from east to west as one trip, but I do not have the time to do that. Maybe when I retire, if I still am capable, I will try it. In December I turned 60 and I decided that I needed to get a bike that I could ride the TAT with and spend the next two years preparing it for me and determining whether or not I could actually do it.
I ended up deciding that a 1st Gen Kawasaki KLR 650 would be the best bike for me. It has longer suspension and is slightly lighter then the 2nd Gen KLR. There are plenty of aftermarket parts available and the experience and knowledge is out there for fixing any issues that come up. Pretty much all of the warts of the KLR are well known and fixes and work arounds are readily available.
I set out to find one and decided that my best bet was to keep an eye on the bikes going through National Power Sports. On Jan 29th a 2006 KLR popped up on their site for $2,499. I immediately put a down payment on it. It was in really good shape with 20,000 miles on it and it had several mods, that I would do, already done to it. The suspension had been upgraded. The front brake was improved with a larger rotor. It had braided brake lines, improved mirrors, handlebars, and footpegs. The only thing wrong with it was the fact that the exhaust was the original rusty 1st Gen parts and it had a replacement front fender that had paint flaking off it.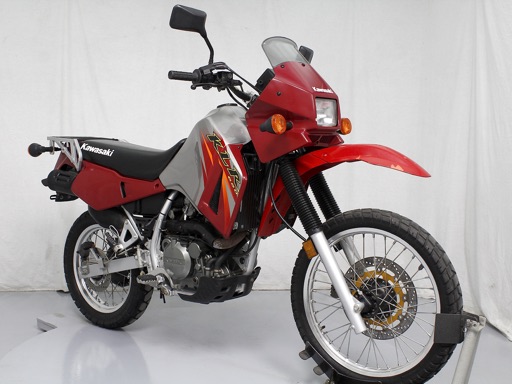 I've been without a bike for a couple of years, since I sold my 1991 Suzuki GSX-1100G. I still have a 1981 Suzuki GS-1100E, but it is high mileage and needs work. I was looking at used bikes for over a year, trying to decide which bike would be best for me. I had decided I didn't want a 4 cylinder bike anymore. I really didn't like the looks of a lot of bikes and there really aren't "standards" anymore. If you want a sit upright, feet under you, street bike now, you pretty much need to get an adventure bike. I ended up deciding on either a 650 or 1000 Suzuki VStrom. Over the winter of 2012/2013 National Power Sports, a local dealer that sells used bikes over the internet and has a showroom, had a couple of DL-1000's. I visited them a couple of times and had pretty much decided on getting one of them. Just as I was about to put a down payment on one, Suzuki had a zero percent financing deal and Rochester Suzuki had a good deal on a new 2012 DL-1000. For just over $3,000 more than a used one I could get a new one with no interest. I purchased it on 2/20/2013.
I have been using my Nook Color for about 4 months now. The first two months I experimented with various Android operating systems on an SD card. The Nook Color has the wonderful ability of recognizing and booting an OS that is on the SD card leaving your original OS untouched. If you want the stock Nook Color you just remove the SD card and reboot.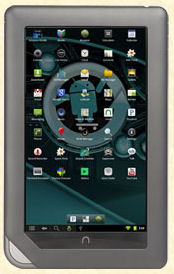 After trying HoneyComb, (Ok, but not very stable on the Nook Color) and Froyo 2.2 (frustrating with the virtual buttons that you need to use) I decided to give CyanogenMod 7 a try. I had heard Jerry and Phil from Android Central rave about CyanogenMod on other devices, so I figured I should try it out. I found these two articles about choosing which OS and choosing where to install (EMMC or SD), and an article on installing CynaogenMod on the SD Card.
They are two very good articles. Since I liked the ability to leave my stock Nook Color available I chose the CyanogenMod on the SD card option. I had already tried Froyo and Honeycomb on SD cards and I didn't experience any SD card related problems with either. I do believe a lot of people that have problems have bad SD cards. I chose a 16 Gig Sandisk (Class 4) and it has worked fine.
After two weeks of using CynogenMod 7 on the Nook Color I decided to go for the Overclock kernel. The 2nd article above contains links on how to use Dalingrin's OC kernel. I am able to use the 1 ghz kernel without any problems. The Nook Color is very responsive at 1 ghz. With both Froyo and Honeycomb I got inconsistent response from the tablet. Some portions of the tablet seemed to require more pressure or a couple of taps in order to work. With the CynogenMod 7 there are no signs of that problem.
One problem with the Nook Color is the lack of buttons. There is only the Home button, power button, and volume. In Froyo the solution is to provide virtual buttons that float around and get in the way. In Honeycomb buttons are provided at the bottom of the screen, making this a non-issue. CynagenMod 7 modifies Gingerbread (Android 2.30) so that the status bar is on the bottom and puts menu, back, and search buttons on the bottom left. This works perfectly and the status bar can be collapsed so it isn't visible.
I have now been using my Nook Color for 6 weeks with the OC kernel and it is still working great. The only time I have to reboot is when I do a lot of updates from the app store and that is just something that I do as a habit. On my phone (Droid X) I once did about 20 updates at once and didn't reboot my phone. About a week later I needed to reboot my phone and it wouldn't boot. It took me a bit to recover from that. Ever since then I always reboot after updates to make sure that nothing has been broken.
I have been using a tool for a couple of years now that makes it a breeze to create simple or complicated scripts using vbscript or jscript.  It has tons of samples, a debugger, and comes with an HTA (HTML Application) editor.    A couple of years ago I thought I was done with using vbscript, but VBSEdit makes it so easy to build powerful scripts.
I just recently created a comparison tool to compare active users in Active Directory with users in our personnel system.  The results of the comparison is an html report that is e-mailed to a group of users.  I was able to create the comparison utility in a few hours using VBS Edit.  I don't know any other environment which would have let me accomplish the same thing in the same amount of time.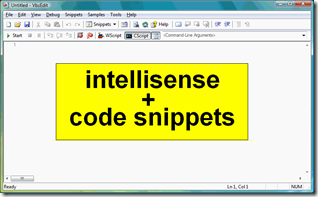 I recently switched from an HP 111 to a Tilt.  I prefer holsters and I purchased one for the Tilt.  One problem though, the holster doesn't have card holder like a leather case does.  With the holster I no longer have a place to carry my On Course Navigator microSD card and an additional SIM card that I have. I searched around for a solution and I finally found the Proporta Aluminum Memory/SIM Holder.
It is the size of a credit card, and has the thickness of 4 credit cards.  It holds 3 SD cards or SIM cards. It is quite sturdy and fits perfectly in one of the pockets in my wallet.  I use an inexpensive tri-fold wallet that I purchased at Walmart.
The length of a SIM card is the same as the width of an SD card, so a SIM card sits in one of the holder's slots sideways.  To hold a microSD card I use an SD adapter.  I can now easily carry On Course Navigator, my SIM, and an extra SD card for my camera safely in my wallet.
The cards are easy to insert, easy to remove and are securely held in place.  Proporta is a company in the UK that sells accessories for gadgets.  I ended up purchasing it through Amazon for $8.32 with free shipping.
I have been trying different methods of synchronizing my Calendars for many years, and I have finally settled on a method that works for me and is pretty much maintenance free.  That method utilizes Google Calendar as my hub and a combination of Google Calendar Sync and an excellent program called gSyncit ($9.99).
Google Calendar supports multiple calendars and lets you publish/share them to other calendar tools like Outlook. Google Sync will synchronize your Outlook calendar to GMail, but it has limitations, and will only synchronize one calendar.  I use Google Calendar Sync to synchronize my work calendar with Google Calendar.  I renamed my main Google calendar to "Work".  Using Google Calendar Sync on my work computer, I push my work Outlook calendar to Google Calendar.  I have my work Outlook look at my other Google calendars as Internet Calendars.
At home I use Outlook to get my calendar to my iPod and Windows Mobile phone.  Pocket Outlook only has one calendar and Activesync will only sync one calendar to Outlook.   gSyncit is a way to get around that limitation.
gSyncit will synchronize all your different Google calendars to your Outlook calendar.  It does this by using categories. Each Google calendar ends up as a different category.  My Work calendar ends up as category Work.  There are several options for configuring the sync process and controlling what gets synced where. It is easy to setup, so it is very easy to try out before buying.  It worked so well for me I only used it for ten minutes before deciding to pay the $9.99.   gSyncit has other features besides the calendar sync, it will also sync your contacts with GMail and that includes photos.
Once I had gSyncit syncing my Google and home Outlook calendars then my Windows Mobile phone and iPod automatically benefited and were now syncing with all my Google Calendars.
It may seem complicated, but it has actually been simple, painless, and problem free since I set it up several months ago.  I update my personal and work calendars during the day and when I get home and sync my phone my calendars are all synced.   The few hours that I am out of sync I can just go to Google Calendar and get the latest info.
gSyncit – http://daveswebsite.com
Screen shots of some of the gSyncit synchronization options: