Clinton Henry Atkinson: A Tribute
This article, written by a family member, was published in,
"Stanley Museum Quarterly" Volume XVI March 1997
Courtesy Richard W. Atkinson
"Who's he," you say?
The man behind a legacy - and a lot of Stanleys we now enjoy. Atkinson is an important bridge person, someone who owned these cars when they were new and then became the collector-preserver. Some of the Stanleys he saved are some of our most desirable, such as Martha Campbell's Model K, soon to grace the 1997 Pebble Beach poster, magazine cover and Concours d'Elegance show plaques. The rest of us aren't left out in this either - many of us sport the six-tone whistle he designed for himself, Paul Bourdon and Frank Saylor. Since then, that whistle has been made by Ole Vikre, John Goold, now Ed LaFleur and probably a lot of others. I'm sure Mr. Atkinson would be pleased to know the design has become so popular.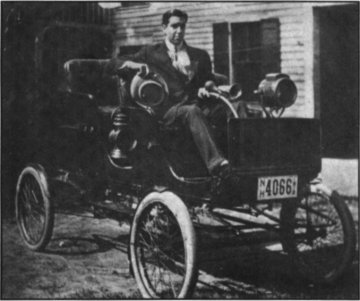 Clinton Henry Atkinson was born May 8, 1893, in Whitefield, New Hampshire. His father, Willis Atkinson, was an engineer on a steam-driven logging train that hauled timber out of the woods to Woodsville, New Hampshire.
The family moved from Whitefield to East Concord, New Hampshire, where Clinton grew up. He got his higher education through a correspondence course. After East Concord, the family moved to Boscawen, New Hampshire where his father Willis went to work for Stratton Flour Mill as an engineer. He worked there until he was 80 moving railroad cars around the loading area of the mill.
While still living in East Concord, Clinton went to work for the Boston & Maine Railroad running from Boston to Woodsville until he hurt his back, then went to work for Samuel Eastman Nozzle Co. He went to a special technical school in Concord to become a draftsman, patent maker, and lathe operator for Eastman.
While working at Eastman Nozzle, Clinton invented the Deluge Gun Nozzle known today as a deck gun on fire trucks. One is on display in a Concord Fire Station as a memorial to fallen firemen. His job consisted of designing, drawing, tracing, blueprinting, patenting and modeling parts. Of course, he never received credit personally because he worked for Samuel Eastman Co. and the patents belonged to the company.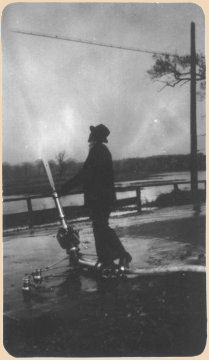 When father Willis retired from Stratton Flour Mill at 80, Clinton took over his job as engineer and car shifter.
Always interested in steam and steam cars, Clinton got his first steam car in 1912 when he was 18 and still living in East Concord. He owned at least 13 steam cars in his life, including Stanleys and Whites.
Between 1912 and 1923, he ran excursion trips in his cars to the White Mountains and Cog Railway. Nearly 125 miles, it was quite a long trip. Most people still drove horse and buggy, and the roads weren't much better than carriage paths. It used to amuse him because his steam car had no trouble with the air pockets that troubled most gas cars at that time. It was not unusual for him to achieve outrageous speeds of 50 m.p.h. and up when the roads allowed.
The six-tone whistle was made by him on his own foot-powered lathe. He also made parts for his steamers. That lathe is still in the family today.
More about the whistle
here
In 1923, he met, in his opinion, the prettiest girl in town, Hattie Garland. After a whirlwind courtship in his Stanley Steamer, they got married. Of six children, Richard, the oldest, worked for the motor vehicle office, sister Ona was a registered nurse, brother Roger an electrical engineer, brother Nathan a welder, sister Mona Jean a mother and bus driver, and brother Clinton Jr., served in the Air Force.
Being the oldest, Richard helped his father take care of the steam locomotive engine at the Stratton Flour Mill. he learned how to drive the locomotive and the Stanley Steamers, a great thrill at that time because he was only about 14 or 15. He was the only one of the six children Clinton taught, although Roger is also a steam buff and has collected a lot of train and railroad memorabilia.
When the Stratton Flour Mill closed, Clinton watched every day as they dismantled the engine piece by piece and hauled it away - a little piece of his heart went with it.
After the mill closed, he went to work for the New Hampshire mental health hospital in Concord, but he still was a steam buff at heart. Richard remembers how upset Clinton got anytime he saw two diesels pulling a train. He'd say, "Look at that! It takes two of those new fandangled contraptions to pull what one steam engine could do."
Clinton died in May 1972 at the age of 79. He still owned four steamers at the time.
He's remembered around Boscawen/Penacook as the gentleman with all the Stanley Steamers. He has a locomotive engraved on his tombstone, and his wife Hattie remembers, "He was always happiest in his locomotive."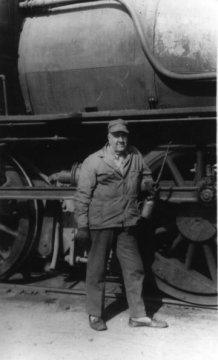 Home