Six Tone Whistle
My grandfather created a 6 tone whistle in the 30's. While going through my grandfathers stuff we found these Whistle Drawings.

Picture of a whistle believed to be in the possession of the Boscawen Historical Society

Clinton also gave one to Paul Bourdon and this is the way it looks today mounted on a 1912 Model 63 10 HP.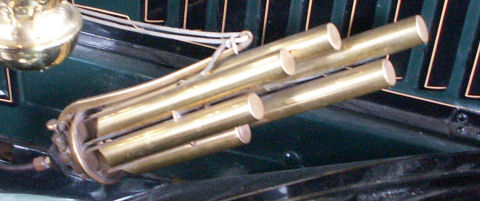 Listen To The whistle
This is an ad for a version of the whistle that is being manufactured today. The original ad is about 3/4's of the way down this page: http://www.stanleysteamers.com/forsale.htm.

I have reproduced the ad here. Click here to hear the whistle.


~ For Sale ~
4/06




Brass Steam Whistles

3 1/2 in. diameter
18 in. long
1 in dia. bells
$439 ea.


Call Rick for Info:
800-917-1993 Ext. 1



Toot!

CNC Machined
Click to enlarge image
Home